Sharing deals on Dealspotr can earn you rewards!
Disclosure of Material Connection: This is a "sponsored post." The company who sponsored it compensated me via a cash payment, gift, or something else of value to write it. Regardless, I only recommend products or services I use personally and believe will be good for my readers. I am disclosing this in accordance with the Federal Trade Commission's 16 CFR, Part 255: "Guides Concerning the Use of Endorsements and Testimonials in Advertising."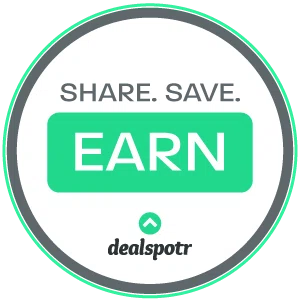 There are all sorts of ways to earn and save online. I'm pretty particular about the programs I use and I like to make sure they are legit before I get too involved and certainly before I recommend them to others. Dealspotr is definitely one of my favorites!
Why?
1. It's simple. Finding, sharing, and validating deals is an easy process and the platform is really basic, letting me utilize it without any issues.
2. I earn money quickly and it is accessible quickly. There's no ridiculous waiting time  or requirements to "cash out".
3. I really like to get and share deals. We all work hard for our money and it's important to me to make that money count. Dealspotr is a "Wikipedia of deals". Content is crowdsourced, meaning the 30,000 members add, edit, and police all the deals on Dealspotr to ensure they are accurate and complete.
Dealspotr has been saving people money since 2015 by encouraging dealspotrs to share deals in one organized community. It's a simple online process that lets you find and share the best deals happening and you get rewarded with points for it! Those points can be redeemed for e-gift cards to your favorite retailers! Again, with no crazy waiting periods or requirements.
Are you ready to save and earn rewards just for sharing? Earn money while helping others save money! 
The first step is to create your Dealspotr account!
You choose what kinds of deals you want to see my subscribing to different interests and following other members. You won't have to worry about drowning in deals for stuff you couldn't care less about because Dealspotr lets you fine tune your newsfeed to savings that are right up your alley. You'll actually see the best, most accurate promo codes, discounts, and latest sale items on products and from retailers that you want to shop!
Once you are set up, you'll see different colored tabs on the upper right hand corner. The first is your newsfeed (which shows you want deals you want to see). The second is your daily checklist of "chores". They are simple and will boost your points with a daily bonus if you complete them!
The third tab (yellow) will bring you to your point progress. Again, it's really simple to navigate and you'll find all your notifications in one spot. I really love that they show you exactly how many more points you need to reach your next reward goal too!
Find great deals that other Dealspotrs have shared so you can save. Be sure to hit the thumbs up button, say thank you, and follow that Dealspotr! You can share new deals and refer friends with your own personal referral link (which is a nice bump in points too)! It's all about building your Dealspotr community, saving, and earning rewards.
Get started today and see for yourself! Just click on the badge below to get started and join my network! I'll be keeping an eye out for all of my referrals so I can be sure to support you on Dealspotr too!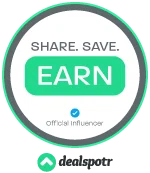 Calling all bloggers!
If you are a blogger, apply to become an influencer in the Dealspotr network. You'll gain special perks available only to influencers like increased earning power and added visibility and links on Dealspotr. As a qualified blogger, you're also invited to syndicate any of our articles on your blog. You can even build referrals by doing so!
What are some of your favorite retailers? Kohl's, Best Buy, Walmart, Kmart, Target?
Why wouldn't you take advantage of their deals on Dealspotr? Start saving money, sharing deals, and earning rewards right now!